Help us lead our communities of educators around the country from your classroom!
I remember the feeling of questioning my next steps almost daily as a classroom teacher, especially this school year. I loved my classroom but desperately needed leadership opportunities to continue to grow my own practice and potential. I volunteered for committee after committee, and ended up writing more sub plans than the professional and personal growth I gained from the extra work. It seemed that in spite of all my reflection that the only viable next step for me was to apply for graduate school and take on some leadership courses. Then I could move into administration, consulting, or coaching full-time.
As life sometimes throws you a bone, I decided to sign on with Open Up Resources as the first Teacher Leader in Residence, a role beginning this July. Taking on a leadership role in the communities of educators around Math and ELA, contracting Community Coaches, and leading customized professional learning, is a position that will fit like a glove for me, though leaving the classroom was a difficult decision to make!
In 2018, I was one of the first four coaches from around the country brought on to support teachers and authentically share my experiences with Open Up Resources 6-8 Math. This was an amazing opportunity to grow as a leader, while still remaining in the classroom. The community programs were something new, and there was no telling how they would be received or if they would be an effective tool within the communities. To make a long story short, it has been more magical than we could have ever imagined.
Since those early days, Open Up's coaching program has expanded to include ELA and grown from four coaches to eight. Thousands of teachers have tuned in to watch our monthly PLC meetings, chat with us via Twitter, or access the many resources we have created to support classrooms around the country. Then came HIVE 2019 and our team of coaches, led by Brooke Powers, were able to plan and lead collaborative sessions, take lots of selfies with our network of educators, and build a true support system for teachers.
None of that even starts to touch on the amazing personal and professional growth we've achieved as a team of coaches. From viral blog posts to new positions and opportunities, we've each taken this experience to grow our practice and careers—all from our classrooms!
But now it is your turn. In order to continue to highlight new and diverse voices in our communities, we are looking for our next class of Community Coaches. If you are passionate about the Open Up Resources curricula, love helping others, and are looking for that "next way" to grow professionally from inside your classroom, I hope you'll consider applying to work with us. Applications are linked below, and please email me at morgan.stipe@openup.org with questions!
Applications close June 15th, 2020. We truly are better together, and I hope you'll consider joining us on our journey of elevating teacher leaders!
Check out what our current coaches have to say about how serving as a Community Coach has improved their practice:
Sarah Said

ELA Community Coach

It has been one year since I became a Community Coach in the Open Up Education Resources Community for English Language Arts Teachers. As the Equity Coach for the EL Education K-5 Curriculum Resources, I think the most critical part of my role is supporting teachers in places across the country that may not have access to professional learning. Being that Open Up Resources provides an open source for high quality curriculum, there are brave educators that take on the resources and don't have a coach to support their implementation. This is where "we" come in! And when we are there, we are removing barriers that prevent teachers from understanding resources and students from achieving.

As a Coach, I enjoy being a thought partner to teachers who are learning EL Education's philosophy of transforming English Language Arts in classrooms across the country. I like working with teachers to grapple with challenges and push through them. We're always a message away to help teachers out when needed. As an ELA teacher, I never had a community or resources on social media the way we do now. That is a huge deal!

Sara Vaughn

Math Community Coach

When coaches were initially hired, we met on Zoom to plan how to support the community. We discussed having a Facebook presence, a weekly Twitter chat and seeing if we could make an appearance on the Global Math Department. Brooke also wanted us to hold monthly PLCs, we discussed what those would look like, and we each set off to execute our own visions.

Each Community Coach held a monthly PLC. Initially, mine were on Saturday mornings. Attendees were consistent and I got to know these participant-educators as we shared our experiences. I also got to know the other Community Coaches as we attended one another's PLCs.

We finally got to meet in person at HIVE 2019 in Atlanta. Morgan almost got run over by electric scooters—they don't have those in Iowa. Martin's flight was late coming in from California so he played catch-up in the beginning of the conference. Jen showed us why teachers are inspired by her infectious energy. Brooke was running everything with the skill of a professional juggler on stilts. I first met Tashima in my driveway as she and I rode to Atlanta together, though because of Twitter, we seemed like old friends.

That first in-person meeting changed our relationships with one another as coaches. We saw beyond our strengths. We had the opportunity to see highs and lows. We saw the good, bad and the ugly. We were finally real people with real relationships. I am going to miss that aspect this year during HIVE 2020.

Justin Endicott

ELA Community Coach

I am so excited to attend the virtual HIVE this summer. I feel like it is going to be off the charts. This year the face of education changed to something we never thought possible. This year we, as educators, were hit with an obstacle that we never dreamed we would have to climb. However with each passing week, I have seen teachers do the unthinkable. I have seen them move forward in educating and loving their students no matter what cost that meant to them. This is a time where many might have expected us to quit, or stop what we do, but instead we rose up and showed the world that teachers can do anything they have to in service of their students.

If there ever was a question about the integrity or heart of an educator, those questions have been put to rest. As if it wasn't enough to think that teaching would cease or meal distribution would have to cease, who would have thought we would still gather together and learn in professional learning communities? Many might have thought that would stop...enter HIVE 2020. Now we can open the doors to so many more educators, still have mind blowing keynote speeches, and still have the community atmosphere with teachers relying on each other more than ever with online communities provided by Open Up Resources. Who doesn't want to be part of this great movement?

For me, I am super excited to present sessions not as the trainer or facilitator, but as a learner right along with my colleagues. I am super excited to engage in productive research-based discussions where I can learn from the best in the country. I feel this virtual HIVE experience will have me pumped up and prepared for WHATEVER comes my way this fall because, no matter what I face, I will have the lasting relationships formed at HIVE along with a virtual community to help me anytime I need it.
---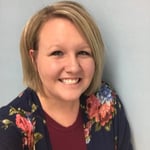 Morgan Stipe, recently named Open Up Resources first Teacher Leader in Residence, combines her experience in teaching and school leadership and brings it to the OUR team. The team at OUR refers to her as our "Resources Ninja" as she is always creating and developing resources to support students that use Open Up Resources 6–8 Math, and is willing to share them with other teachers from around the country. Morgan also documents her classroom experiences on many social media platforms including #OpenUpMath and the Open Up Math Facebook Group.