Help lead a national PLC, from your classroom.
This school year has been unique memorable wild.
Teachers have been instructing with empty hallways and full Zoom rooms, talking into blank screens that are always powered-on. And those blank screens are barriers to the students' faces that we're teaching but have rarely seen. I feel like I am constantly speaking important takeaways and directions into a muted mic while simultaneously acting as the bouncer at the virtual door of my Zoom meetings, blocking uninvited "guests."
There have been many times where I felt so isolated but also like I never got a moment to myself. Self-care went right out the window right around a year ago.
But, wow, have I learned a lot!
Working with the Open Up Resources Community Coaches throughout this challenging year has been an honor. Each of the coaches rose to the occasion this school year to share, lead, and collaborate with their educator peers from across the country. The Community Coaches have led incredible PLCs where they share their stories, learnings, challenges, and highlights. The team has engaged with educators in Twitter chats, Facebook communities and beyond. These educators have also written blogs, crafted vlogs, and shared their voices.
And the Community Coaches do this all from the schools and classrooms where all of the learning and work is happening.
The Community Coaches are also currently hard at work planning for our 3rd Annual HIVE Conference! The Community Pathways are truly special, where the sessions are all planned and facilitated by these educators for fellow educators using the same high-quality curricula.
When I was a classroom teacher, I aspired to lead. So, as I used my voice I also learned, and grew professionally and personally. I volunteered (and was volun-told) to join this committee, attend that training, sit on building and district teams, and to be a voice for my peers. I loved it, and I was ready to grow even more in my teaching practice. That's why I applied to be a Community Coach.
As a Community Coach, I shared my experiences, my voice, and my resources to make an impact in a big way, and I did this while remaining in the classroom with my students.
To highlight, amplify, and elevate new and diverse educator voices in our communities, Open Up Resources is looking for our next team of Community Coaches! If you are passionate about the Open Up Resources curricula, love helping others, and are looking for that "next way" to grow professionally from inside your classroom, I hope you'll consider applying to work with us. Applications, due June 10, 2021, are linked below. Please email me at morgan.stipe@openup.org with questions!
This year, I often looked to the Open Up Resources communities for hope, inspiration, and a silver lining throughout this wild school year. I cannot wait to see the buzz of the communities for the upcoming school year – after a nice, long summer break, of course – and what you will take from pandemic teaching and learning, as well as what will stay in the rearview. Let's keep growing better, together.
---
I would like to take this opportunity to recognize the current Open Up Resources Community Coaches! They have each brought their talents and skills, celebrations and struggles, time and resources, to help educators across the country successfully navigate pandemic teaching and learning. Thank you for sharing your Open Up Resources story!
Ciera Searcy, Literacy Coach on Special Assignment, Detroit Public Schools (MI)
Justin Endicott, Grade 4 Teacher, Mingo County Schools (WV)
Sarah Said, Director of Language and Equity Programs, Elgin Math & Science Academy Charter School (IL)
Tashima Price, MS Math Coordinating Teacher, Wake County Public Schools (NC)
Nicole Mercurio, Grade 6 Math Teacher, Gililland Middle School (AZ)
Cathy Dickson, Grades 6-7 Math Teacher, Lake Zurich CUSD 95 (IL)
Christy Hansen, Grades 7-8 Math Teacher, Quantum Academy (CA)
Yimiya Pearson, Secondary Mathematics Curriculum Specialist, Cumberland County Schools (NC)
---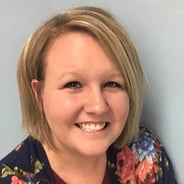 Morgan Stipe, Open Up Resources first Teacher Leader in Residence, combines her experience in teaching and school leadership and brings it to the OUR team. The team at OUR refers to her as our "Resources Whiz" as she is always creating and developing resources to support students that use Open Up Resources 6–8 Math and EL Education, and shares them with teachers across the country. Morgan also documents her classroom experiences on many social media platforms including #OpenUpMath and the Open Up Math Facebook Group.
Check out upcoming Open Up Resources 6–8 Math Professional Learning events from our Teacher Leader in Residence, Morgan Stipe, here!