Open Up Resources Community Coaches share how they plan to make the most out of holiday breaks.
Breaks in the school calendar, especially holiday breaks, are always something I look forward to as I navigate each school year. They're the colored boxes on the calendar that I long for at that time of year when the days get shorter, and we turn back the clocks an hour. The moments to relax and recharge allow me to be the best for my family, my students, and myself.
I asked the Open Up Resources Community Coaches how they plan to make the most out of these breaks in routine, and this is what they had to say!
Learn more about live PLCs with our Open Up Resources Community Coaches using the following links:
---
Justin Endicott, 4th Grade Teacher, Gilbert, WV
I am one that loves to remodel my home and change it up. Therefore, I normally spend the holiday seasons with some type of DIY remodel project. I also use the time to decorate for the holidays or organize every single square inch of my home. As I am typing this, I just finished a weekend DIY project of adding shiplap to my living room walls!
However, with the recent changes in my job due to the pandemic, I am aiming for this holiday season to be much different than holiday seasons in the past. I am seeking rest, because I feel my body telling me it is much needed. Recently, I was reading an article that said, "Just as the soil needs rest for springtime growth, so do we!" Man, that hit me. COVID-19 has added stress to my teaching as I spend countless hours just keeping my head above water.
With rest in mind, I plan to do activities that bring me calm and peace. I plan to paint and create as much art as I can and spend time outdoors as much as possible. I want to build outdoor fires so I can enjoy the brisk cool weather. I hope to make a kettle of tea and read a good book or try new recipes and binge watch shows that make me laugh. I want to relax and take it easy.
Now this will be hard for me, because I can already feel my mind trying to convince me that I need to get some projects done. I will keep everyone posted if I am successful during this holiday season of rest.
Nicole Mercurio, 6th Grade Math Teacher, Tempe, AZ
These upcoming months bring unwavering joy, merriment, and bliss to my day to day life. Hallmark holiday movies are back, tree lightings are emerging all across towns, it is starting to snow, and my family and loved ones are coming together. The snow almost makes this time of year more magical. It is my favorite time, and even though I live in Arizona right now, I am a New Englander at heart. I am looking forward to going back east during December and experiencing some snow and cold — it's the little things! Along with these times comes much needed rest. It is my goal to truly unplug and relish in the holiday spirit with my family. I encourage my students to do this and always tell them family comes first. During the holiday season, it is time to take some of my own advice.
I find myself reflecting on this past year, and a quote I read a few years ago still resonates with me. It stated, "If you have a cup of coffee and someone bumps into you, the coffee will spill out. Life is the same way when life comes around and shakes you, whatever is in your cup will spill out." This quote has stuck with me. I find myself reflecting on what is in my cup that is spilling out to the world. I find solace in knowing just around the corner is time. Time to relax, time to cherish with my family and loved ones, and time to refill my cup with joy, elation, and gratitude that I can transfer into my classroom. I encourage everyone to take time for themselves and find the things that make them feel energized. Fill your cups!
Sarah Said, Director of Language and Equity, Elgin, IL
Teachers in our nation have had a bumpy spring, eventful summer, and ever changing fall. During winter break, we will want to prepare for January and what is to come, but try to get planning out of the way before you leave for your breaks. As I will challenge myself, I want to challenge you to find balance this holiday break and leave work at school.
I'm going to enjoy sacred time with my husband and children in my home without the pressure of "in-law" time. I'm going to laugh, read things that aren't school related, enjoy nature, and walk to my local Arboretum and look at the lights on the trees with my daughter. We plan to play board games, bake, and do in-home projects together. I also plan to find a great series on Netflix to watch and binge on it—please give me recommendations.
I love being a school leader. I have passion for what I do and who I serve. But, that passion can get worn out if I do not take the time to recharge my battery this holiday season. We don't know the waters we will sail in the new year. I'm taking advantage of this time and relaxing.
Cathy Dickson, 6th Grade Math Teacher, Lake Zurich, IL
November and December deliver not only much needed rest but also anticipation and excitement for many reasons. Most importantly, it means my home is filled with family. My two children come home for an extended period of time; my daughter will be back from college and my son from his home in Iowa. The past three years meant travel to warmer destinations, but this year we relish the thought of a staycation. Cozy days and nights include walks outdoors, an abundance of laughter, long talks over morning coffee, playing games like Euchre, Apples to Apples, Bananagrams and Rummikub, and watching movies together. This time of fellowship and rest is increased in joy and delight with the nostalgia and flavors of favorite food dishes that have become tradition. Home baked pies, cinnamon rolls, and stuffing like Grandma used to make, snowball and almond butter cookies, ChexMix for card games and football, traditional turkey at Thanksgiving and ham at Christmas.
As I write this, I stare at an early put-together tree, bare except for its lights. It's a reminder of hope: hope that comes from remembering the past and recognizing our resilience, hope for today in spite of obstacles, and hope for the future and the year to come. Rest and rejuvenation for me come from the family, food and fellowship of the holiday season. My hope for you is that you embrace all that gives you rest and that you revel in those things so that you bring new energy into your life and your classroom (whether virtual, hybrid, or in-person)!
Yimiya Pearson, 6–12 Math Curriculum Specialist, Fayetteville, NC
The Fall/Winter Holiday Season will be different, but still it is here! Fifteen years ago, my extended family of more than fifty members decided that we didn't like traveling four hours to just spend three hours together eating and laughing, and that we wanted more time together. So for the last fourteen years, we have traveled from Virginia and North Carolina to meet for a four-day Thanksgiving holiday in sunny Myrtle Beach, SC! Our time together consisted of cooking, shopping, game nights, 5k Turkey trots and lots of karaoke and dancing. This year, even though we are not able to vacation together and will be hundreds of miles apart, we have still designed and ordered medals and t-shirts and will meet virtually for our virtual 5K Turkey Trot and at some point during dinner. Thanksgiving will be different but still will be a time to be grateful. As a family, our Christmas holiday will look different this year, but still being able to celebrate and finding a way to connect is important.
As a 6-12 Math specialist for my district, I support teachers and instructional coaches with mathematics instruction. It is important that no matter how, I find a way to connect with the teachers and instructional coaches. This year my support as a specialist looks different but still must occur and must be real-time support. As 2020 ends and 2021 approaches, I want to encourage instructional coaches to continue supporting teachers and that, even though instructional support may look different, it is still vital—maybe now more than ever.
During this time, we have to be willing to go against the traditional ideas of teaching and supporting teachers and have empathy as we encourage. Let me encourage you as you encourage others. You are important and are in this support role for a reason. Despite the fact that your support may look different, you still have the power to make an impact on teachers and students. Instructional coaches, find a way to affirm and encourage those you support as we transition into 2021 and possibly additional new methods of instruction.
Christy Hansen, 7th/8th Grade Teacher, San Diego, CA
It's hard to believe we've made it to the start of the holiday season! I always look forward to November because I've gotten to know the students, we're in a rhythm, and the holidays are right around the corner. Even with everything going on, this year is no different. I'm looking forward to taking a much-needed break from Zoom, wearing a mask for 6 hours, and cleaning desks. I plan to relax with family, catch up on my holiday Hallmark/Netflix obsession, and eat holiday favorites.
During this time, I hope everyone can find some time for themselves to rest and relax. Many teachers are working with nothing left to give. This is the time to refill the tank and mentally take a break from school-related problems. I try to focus on the moment and not worry about a future I can't control. I know—easier said than done! Please take care of yourself and your family, and I hope you have a wonderful holiday!
Ciera Searcy, Literacy Coach on Special Assignment, Detroit, MI
The holiday season is my most favorite time of the year! Although things are different this year, I still believe that this break provides us with the time to rest, re-evaluate, and reset. I normally enjoy the hustle and bustle of being out in the crowds, catching all the deals, and just the atmosphere of togetherness that this season brings. This year, togetherness means so much more!
I am going to use this time to enjoy my immediate family and cherish these precious moments. I am also going to reflect on how the past months have unfolded and set some actionable goals for the new year. I am going to compile my resources, create schedules, and plans of action for the teachers that I service. I also plan to practice self-care—which is what we all need during this time. I am going to remind myself of the progress that has been made in this year and look forward to the gains that we will see from the students as we finish out the school year strong!
---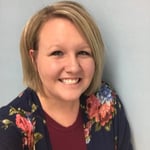 Morgan Stipe, recently named Open Up Resources first Teacher Leader in Residence, combines her experience in teaching and school leadership and brings it to the OUR team. The team at OUR refers to her as our "Resources Whiz" as she is always creating and developing resources to support students that use Open Up Resources 6–8 Math and EL Education, and is willing to share them with other teachers from around the country. Morgan also documents her classroom experiences on many social media platforms including #OpenUpMath and the Open Up Math Facebook Group.
Check out upcoming Open Up Resources 6–8 Math Professional Learning events from our Teacher Leader in Residence, Morgan Stipe, here!