I have been fortunate in my teaching career to have taught students from all walks of life—students of various cultures, ethnicities, and also students with varied abilities.
One thing that I have learned is that it's not enough to dwell or work in the same space. That doesn't make a community. What makes us a community is when we develop an appreciation for each culture and the differences that make us unique.
Over the years, I have heard many stories. Some courageous, some breathtaking, stories of triumph, and defeat. Those stories push me on the days when I'm not feeling it—days that have become more frequent for many educators during the pandemic.

How to Create Empathy
To create an environment of empathy, we have to get to know the students that we teach, whether it be virtually or face-to-face. I learned early on that teaching exceeds what is in the textbook and that placing students into groups doesn't always equal relationship-building and friendship. It was up to me to demonstrate what being a community really means.
No one gets it right 100 percent of the time. We are all human and have made mistakes. When you create a culture of empathy, your students will support you as well. They will recognize when you're not looking or feeling your best, and next thing you know, your desk will be flooded with pictures and cards. You'll hear the students whispering, "The teacher's not feeling well today." The room will run more smoothly than when you're at your best.
When Langston Hughes wrote the poem "Mother to Son," I can imagine that empathy was at the forefront of his mind. In the poem, a mother tells her son about her life to help him understand what she's been through, how her experiences have shaped her life, and to show him that regardless of what has happened to her, she will not quit and neither should he.
I remember one school year, our district welcomed many Syrian refugees. They were afraid. They were in a new place. The students didn't know the language or culture, and they couldn't tell their story because they didn't have the words in English to describe it. But what spoke to me were their tears. I had to imagine myself in a place where everyone around me was speaking a language that I did not speak or understand, where I was separated from all I had known and exposed to the unknown. It was empathy that brought me to label everything in my classroom with pictures and words, that drove me to teach in the hallways during our restroom break or even sacrifice lunch periods as needed to let my students know that I cared.
I have had students that were homeless, those that came to school and would cry because they were hungry and had missed breakfast. I learned to keep snacks in the room so that students wouldn't hide food in their desks after breakfast or lunch. Some parents would support my efforts by buying snacks for the entire class.
Many times we get so lost in the logistics of education that we forget to extend grace. If I can provide pencils, not count a homework assignment, or let a student put their head down because their sibling kept them up all night, I am going to do whatever I can to help them to have a good day.
I have seen tears turn to smiles and failure turn to success. I have seen students lose everything that they owned in a fire and still fight to come to school because they didn't want to miss what we were learning that day. I have seen hopelessness transform into hope, when students that had been retained multiple times, reading at a kindergarten level in the third grade, were able to pass the state exam at the end of the year.
These are just a few of the stories that I know. Imagine the stories that I never heard—that we've never heard because we didn't ask or because they didn't feel comfortable telling us because they didn't know that we really cared.

What Can We Do As Teacher and Educators
Yes, we have work to do. We have goals to meet and tests to take. But our greatest work is preparing our students for success in the real world. In the real world, it doesn't matter whether you got an A or B on your report card. We are teaching life skills. We are teaching character. We are teaching our students how to take risks and not falter, but rather to persevere, even when the challenge seems insurmountable.
Maya Angelou once said, "People will forget the things that you said, but they will never forget the way you made them feel."
Empathy is our way of saying: I see you. I acknowledge your feelings and your experience, even though it's different from my own. I'm here for you. I support you and I'm going to be sensitive to your needs.
I am a witness that when students know that you care about them and believe in the possibility of their success, the outcomes are greater than your expectations. When you show up for your students, they show up for you. When we show up for one another, we build bonds that not only last a school year, but ones that can last a lifetime.
---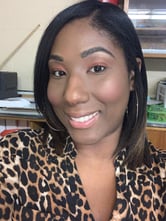 Ciera Clark-Searcy
Chrysler Elementary School - Detroit, MI
@ciera_teaches

Ciera has been a teacher for 10 years. Although she has taught all subjects in 2nd through 4th grade, teaching English Language Arts has always been one of her favorite subjects because of her love for literature. Ciera is a Detroit native and Literacy Coach for Detroit Public Schools Community District where she is also a part of the Enhanced ModEL Detroit Curriculum Team. She is so excited to be a part of the Open Up Resources Community and to work with teachers all over the United States!