The 2020-21 school year has been unbelievable and long for many of us, with constant change, occasional fear, and exhaustion. We're all prone to burnout.
As an administrator, I have to be mindful that the staff I serve will have the same exhaustion and fatigue that I have. We need to move forward in serving students, but at the same time, we need to be creative in finding fun ways to support staff in utilizing the EL Education K-8 ELA curriculum.
Our school's Instructional Coach, Dr. Mallory Keenan and our Dean of Culture, Jacqueline Willer, noticed that our team needed support on the differentiation tools in the curriculum due to leaning more on the flex curriculum this year. On this I advise that you look at both versions side-by-side in order to understand where you can find opportunities for differentiation in your instruction.
As administrators, this is a time where we can be innovative in supporting the teams we serve. Staff everywhere need to have fun! The differentiation tools that the team needs to support students are in the curriculum, but it's difficult for teachers to benefit from "sit and get" professional learning on top of all the hours of work they do—we don't teach that way. That's why we created the idea of the "Amazing Manuals Race."
As we are in-person for professional learning days, our Dean decided to focus on fun for staff culture. Together, the three of us established learning targets for professional learning. As our Instructional Coach and I thought about the need areas, we flipped through the manuals and identified places where EL provides instructions of language dives, the heavier and lighter supports for multilingual learners, the multiple means of representation, and the opportunities in skills and ALL block provided for teachers to grow with their students.
We worked together to create excitement around the building for this "race." Teachers were competing for a parking spot and bragging rights. They came up with team names for the event and even wore matching shirts. Dr. Keenan and I served as judges and our Dean was the "host." The day of the race, we hyped things up even more with music playing through our common area where the event was held.
Teachers came up with creative ways to explain various topics of differentiation as they moved around the building to answer the questions. They made sure to have beautiful representation of skills block songs and one teacher even started to dive off a table (which we stopped!) in order to act out a language dive and its purpose to teach grammar, sentence structure, comprehension and writing.
We have to make the most of professional learning for our teams to find it enjoyable. We can make it both fun and informative. Teachers need to have a good time on days when we don't have students in the building.
---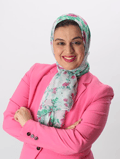 Sarah Said is the Director of Language and Equity Programs at an EL Education School in the Chicago Suburbs. In her role, she oversees support programs for Multilingual Learners, works with others to create a community that fosters success for students from the diverse communities her school serves, helps strengthen school to community outreach, and coordinates Title grants. In the past, she has been a Director of ELL, Dean and Curriculum Coordinator. In addition to her role in her building, she is a contributor for ELL Confianza and has written a variety of blog posts online. She is a member of the #ELLChat and #ELLchat_bkClub where she helps advocate for Multilingual Learners.
Follow her on twitter: @MrsSaid17