With HIVE 2021 tickets now on sale Brooke Powers, Open Up Resources Director of Professional Learning, looks back at HIVE 2020 and dishes on HIVE 2021 planning.


Conferences are my love language. I think it is a "teacher thing." We love learning and know the value of having a growth mindset, so the ability to just focus on my own learning for a few days definitely makes me happy.
A LOOK BACK AT HIVE 2020
When COVID-19 hit and it became evident that in-person conferences wouldn't be happening in 2020, including our own HIVE conference, I was crushed that not only would I miss out on learning but wouldn't have a chance to feel the community spirit that is so evident at some of my favorite conferences.
We set out to try and replicate our favorite things about education conferences in a virtual world for HIVE 2020. We were able to find a way to ship 750 swag boxes, create small cohorts of participants so folks could still feel a sense of community, and were able to secure some amazing and inspirational keynotes to cover the topics like distance learning, racism, equity, and more that educators were facing.
PLANNING HIVE 2021
As I started reading through the feedback at the close of HIVE 2020, it was amazing to see how many participants asked us to keep the conference virtual. Yes, some did want to come together in person again but many others were so thankful that the conference was accessible. Without travel costs, the conference became a possibility for more people than before. We were able to have people from around the country and around the world.
Equity and access are our mission at Open Up Resources, so we knew we had to find a way to keep a virtual component to HIVE in 2021. Originally, we thought we'd offer conference attendance both in-person and virtual, but as COVID-19 made that impossible yet again, we've dedicated ourselves to giving participants another amazing virtual experience.
WHAT TO EXPECT THIS YEAR
If you've never attended HIVE, I can tell you it is different from other conferences. You will be surrounded by educators using the same curriculum you are and who are facing many of the same successes and challenges you may be facing. You will experience 15 hours of planned professional learning around the curriculum in a small cohort to build lasting relationships and a support network. Beyond the 15 cohort hours, you will experience 5 hours of motivating keynotes and have another 5 hours where you get to select sessions to further deepen your understanding of the curriculum and continue to move your instruction forward. Plus, you will get an awesome SWAG box delivered to your door!
If you've attended HIVE in the past you don't need to worry that it will feel repetitive or you won't continue to grow. Our keynotes and flex sessions will feel fresh and new. The pathways, especially the community pathways, are designed to grow with educators as their expertise with the curriculum grows. And we've got awesome new SWAG to send your way, including a special gift for those that have attended HIVE for two or more years.
We're also doubling down on developing "community" this year by offering affinity groups for participants to connect with others. We are committed to helping every participant find a group of colleagues with whom they can feel a sense of belonging.
Last year, HIVE sold out so quickly that we had a lengthy waiting list and, based on my inbox full of messages asking about this year, it will sell out again. We'd love to have you join our hive as we continue to get better, together. Tickets are now on sale, and you can learn more here.
See you in July!
---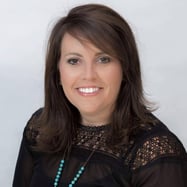 Brooke Powers
Director of Professional Learning
Open Up Resources

A 2017 Milken Educator and former 7th grade math teacher, Brooke is passionate about Open Up Resources curricula and empowering teachers as leaders within the Open Up Resources communities.
Find her on twitter at @lbrookepowers.