It's adoption season, and we're talking with a lot of districts about implementation success with our curricula.
We're deeply proud to offer the top-rated curricula in K–12 as free Open Educational Resources, but when it comes to using these curricula, we always advise investing in their success.
In fact, we describe OER as being 'free like a puppy': the puppy may be free, but helping it thrive won't be. In the same way, our curriculum is free, but the supports that help make it soar in your classrooms aren't.
So where do we see districts investing when the materials are free? They tend to focus on two main buckets:
Bringing the materials into classrooms in a comfortable, teacher- and student-friendly way

Professional development
Since we're receiving a lot of questions about the options – what's free, and what's not free – we thought we'd unpack them a bit.
Bringing the Curriculum Into Classrooms
First things first, when you implement one of our curricula, you need a way for students and teachers to access the content each day. The good news is, we offer free options that support both 1:1 and non-digital classrooms:
OVERVIEW OF OPTIONS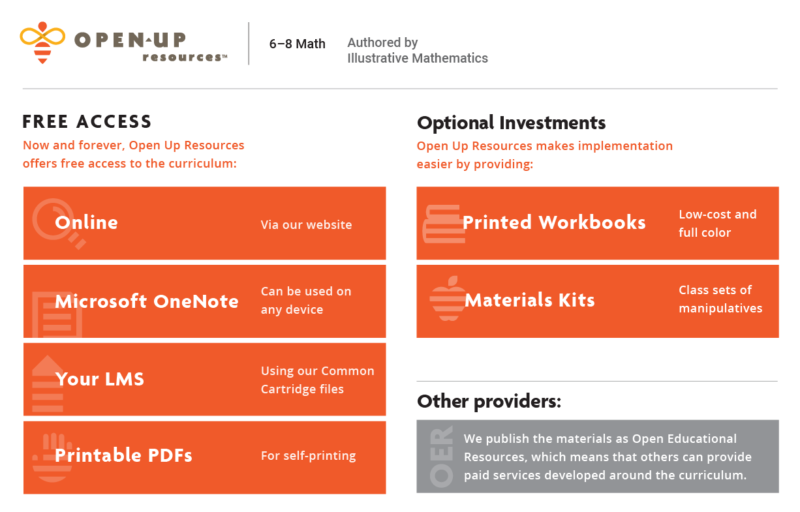 Above is an overview of the options for our 6–8 Math curriculum. (Our ELA curricula will have similar options when they are released as Open Educational Resources; we'll detail those options when EL Education K–5 Language Arts is released as OER.)
Remember, those free options are 'free like a puppy.' In order to use the free digital options, schools must have 1:1 device access. So, schools need to consider if they're technologically ready for a digital implementation, as well as if they want to go digital. Some districts use their curriculum savings to fund device purchases and go 1:1. This is a great example of how districts are reinvesting savings to achieve their implementation goals!
If schools decide to go with a print option, the cost of printing the entire curriculum on the district printer or at a local print shop adds up – which is why many districts find they save when purchasing our print materials (we print in very large volumes, so our prices are frequently lower than in-house and local options).
One of our biggest surprises has been the number of 1:1 districts that choose to purchase printed workbooks, in order to aid their digital implementation. The feedback we hear includes:
Having the lesson materials in hand makes some teachers and students more comfortable.

Having pre-printed workbooks allows teachers to focus their time on teaching rather than printing.

Printed teacher guides make prep easier.

The full-color student workbooks, which have a bright design and use color to make concepts clearer, help engage students.

Parents like seeing the brightly-colored print workbooks; it increases their confidence that the school is using a quality curriculum.
One thing that has not surprised us at all: districts who implement the materials digitally adore the free Microsoft OneNote integration. It brings the curriculum into an elegant digital notebook, and allows teachers to assign and grade assessments, view assessment analytics, annotate lessons, and save and share their modifications, among other features. The OneNote app is free and can be used on any digital device. Our Pro Tip: 1:1 districts should definitely check it out.
And Now, a Word About OER
We publish our materials as Open Educational Resources (OER), which means they are both free and openly licensed.
Generous philanthropic support for our work enables our curricula to be given to schools free of charge, and we're committed to maintaining free and open access to these excellent curricula, now and in the future.
Our open license gives your district the right to use and modify the materials. It also gives third parties the right to do the same — they can even build new products and services around the curriculum and sell them to districts.
This means you may see for-profit providers offering products and services built from the curriculum. This is all part of today's OER landscape.
Our Pro Tip to districts evaluating those options is to ask smart questions about how the materials have been enhanced, so you can consider the cost-benefit of those enhancements relative to the unique needs of your district.
Professional Development
All of our free curricula are designed to elevate instructional practice and are built with embedded professional learning.
You'll find that the authors of the materials have masterfully and strategically included professional development into the lesson materials and teacher guides throughout the curriculum.
But it's important to note that our curricula require practice shifts for many teachers, and we believe the most important ingredient to success is supporting teachers in those shifts with professional learning.
Don't take it from us; last year's early users of the curriculum made this point loud and clear in our webinar on implementation success.
Because of this, we strongly encourage districts to invest in their teachers' success, and would be glad to speak with districts about the professional learning options that will best support their needs.
Our Closing Words To The Wise
So, what's our advice to districts considering their options?
A few things:
Start with a good needs assessment. Every district's needs are different, so there's no One Size Fits All implementation strategy.

Hear from districts who've used the curriculum.

This webinar

is a great place to start.

Drop us a line

if you'd like to connect with a member of our team to understand any of the above in better detail.
We know that openly licensed curricula are new to many districts, and our team is committed to helping educators understand and explore their options and plan for success.