Magic happens when the right curriculum comes into the hands of a skilled teacher. That teacher can then unlock doors for students that no one thought possible. With the right curriculum, teachers can create an engaging environment for their students to thrive in literacy acquisition. Students begin to grow right before your eyes and watching that is something that cannot be bought.
The magic of a great curriculum extends beyond the walls of a classroom. It will also inspire the teacher to engage in the learning with their students. The teacher will often come up with some amazing extension projects and run with the curriculum that is placed before them. It has the power to bring teachers together. It empowers them. It excites them.
My experience using EL Education K-8 Language Arts curriculum has been magical—developing relationships beyond my normal PLC at school. When I became a community coach for Open Up Resources, I was excited to help other teachers find or regain the joy of teaching, just as I had with this amazing content-based curriculum. However, I didn't realize I was going to be receiving way more in return than I could ever have given.
Open Up Resources Community
This curriculum opens you up to a whole community of enthusiastic teachers all across the country. I teach in a very rural area and, without the Open Up community, would have myself and one other grade level partner to discuss ideas and concerns or simply "talk shop." Now, thanks to EL Education and Open Up Resources, I have thousands of teammates that I can call on for ideas, sympathy, and help. Over the past year, I've grown even more appreciative for how powerful we are together.
Just recently, I was finishing up Module 2 for 4th grade and my students were getting ready to publish their narrative writings for animal defense mechanisms. As with all teaching during the pandemic, I was striving to find a way to mesh the virtual vs. in-person model. Luckily, I have an army of teachers working together that I can check in with each night. I immediately went to the community and found a post from a wonderful teacher named Ariana Lalos. She did a wonderful job converting the performance task in a way that fit for her students. I have always said, "Teachers are the drivers of this curriculum, and they can make it what they choose!" I immediately started questioning her to get ideas. We later connected on Facebook messenger, and I asked if I could borrow her ideas. Her response is what clicked with me of the power of this community. She replied, "We are a crew! Take what you need!" That statement is the summation of this community and curriculum and, because of her, my students were successful.
HIVE Conference Creates Lasting Connections
We are quickly approaching another HIVE conference, and I am still running off the energy from HIVE 2020. For the past year, I have found myself just randomly smiling as thoughts of the sessions come back from memory. It's this connection that makes me so excited for our future as a team.
At last year's HIVE conference, held virtually like we'll do in 2021, I was able to present the EL Education Year 2 pathway. There I met so many amazing teachers—all of whom are now a part of the Open Up ELA virtual community I mentioned above. It was at HIVE that I met Megan Kruse in my sessions. She was so enthusiastic and determined to assist the teachers she served. Now, we meet twice a week on the Open Up PLCs and are still sharing ideas a year later.
I can name many others. Heather Mann (from West Contra Costa Unified School District) willingly opened up her entire Google drive to me just because I mentioned that I needed something. She too attended HIVE with us, and she is still a friend I can call on at any time.
So, as you are searching for the right curriculum for your students, realize the perfect curriculum is one that will give you way more than mastery on content and curriculum….it gives you the world at your fingertips!
---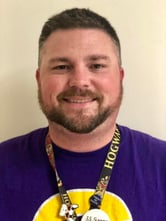 Justin Edicott
@endicottjustin1

Justin Endicott is a 4th/5th grade ELA teacher, Open Up Resources Community Coach and ELA Facilitator for Teaching Lab. Reach out to him and other Community Coaches on the EL Education K-8 community Facebook page, via email and on Twitter.