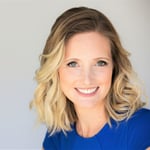 Jessica Sliwerski, CEO of Open Up Resources, has been named a recipient of the 2020 Social Impact Award from the Harvard Business School Association of Northern California Community Partners (HBSANC). Jessica was selected as one of eight semi-finalists before the alumni of Harvard Business School (HBS) chose her as one of four winners of this year's honor. Fellow winners include: Brandon Nicholson (the Hidden Genius Project), Andrea Urton (HomeFirst), and Maen Mahfoud (Replate).
Harvard Business School Association of Northern California Community Partners sponsors these four promising Bay Area nonprofit CEO/Executive Directors to attend the Harvard Business School Executive Education course Strategic Perspectives in Nonprofit Management (SPNM) on a fully paid scholarship. This signature course on the HBS campus will provide these outstanding nonprofit leaders with direct access to HBS professors, HBS cases, and a network of global and social change makers.

---
About Jessica Sliwerski:
Jessica is CEO of Open Up Resources. Previously, Jessica was the co-founder and Chief Academic Officer at the adaptive literacy software company LightSail Education. Her instructionally-focused product vision brought numerous awards to the organization, including the Digital Promise and Edsurge Digital Innovation in Learning Award, two ASU-GSV Return on Education VentureEd awards, and a Readers' Choice Top 100 recognition from District Administration magazine. To learn more about Jessica, click here.


About Open Up Resources:
Open Up Resources is a 501c3 that exists to increase equity in education by making the highest quality curriculum freely accessible to educators and providing implementation supports to the broadest number of teachers, empowering them to effectively and sustainably improve student outcomes in pre-K-12 English Language Arts and Mathematics. To learn more about Open Up Resources' mission and work, click here.
Stay up to date on the latest from Open Up Resources by following us on twitter, Facebook, LinkedIn and joining our communities.