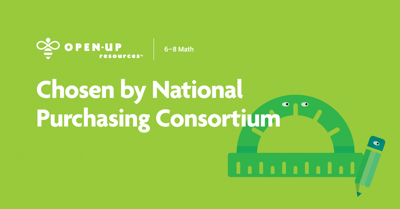 MENLO PARK, CALIF. [Feb. 22, 2019] -- The Los Angeles Unified School District has chosen the nonprofit Open Up Resources as one of three publishers from which its schools can now buy middle school math curriculum through a groundbreaking new procurement consortium designed to provide all schools with high-quality math curriculum for English Language Learners (ELL).
Open Up Resources 6–8 Math—a free, top-rated math curriculum—was chosen specifically because of its strength and supports for teaching English learners.
The Council of the Great City Schools, the nation's primary coalition of large city public school systems, and the LAUSD, the country's second largest school system, created the consortium and established a nationwide "bench of contracts," that now includes Open Up Resources. Any school district in the nation can use these contracts with Open Up Resources to purchase
Open Up Resources 6–8 Math
, as it has been formally vetted through the procurement process of LAUSD to support ELL students and meets the predetermined criteria set by the Council and its member districts.

"We're honored to be a part of this program and that the Council of Great City Schools and the LAUSD have recognized the excellence of Open Up Resources 6–8 Math," said Open Up Resources CEO Jessica Sliwerski. "Our goal as a nonprofit is to improve education equity by making sure that all students have access to the highest quality curriculum, regardless of district resources."
Open Up Resources recently released the Second Edition of Open Up Resources 6–8 Math curriculum, which includes enhanced English Language Learner (ELL) supports within every lesson as well as a fully translated Spanish version. The curriculum had already received a top-rated review from EdReports.org.
The Council of Great City Schools initiative, believed to be the first of its kind to harness the joint purchasing power of school districts from different states, started after survey data in 2012 revealed that urban school systems with the largest numbers of English learners were frustrated with the overall quality and availability of instructional materials for ELL students.
The Council assembled procurement officials to find curricula that effectively serve ELL students and that reflect the new math standards being implemented nationwide. They then worked with publishers to develop or modify their curriculum to be a part of the joint purchasing arrangement. More than 100 publishers expressed interest in the program, and only three, including Open Up Resources, were chosen.
The Council will now inform its members that the curricula are available to them through the consortium and that there are no fees or conditions for use of the contracts.
"This is the first national effort that we know of where a consortium of major school systems has banded together to drive market demand for higher quality instructional materials," said Michael Casserly, Executive Director of the Council. "Our school districts have sent a clear message that they will demand more for these students and more for their scarce educational funding."
"Los Angeles Unified remains committed to finding new ways to better support every student and to make sure they get the best possible education," said Superintendent Austin Beutner. "L.A. Unified serves the largest number of English-language learners, and we're pleased to join with the Council of Great City Schools in putting that experience to work."
For more information about Open Up Resources, visit openupresources.org.
ABOUT OPEN UP RESOURCES
Open Up Resources is a nonprofit that develops the highest quality K–12 curricula available and provides them to districts for free, as open educational resources, to improve equity in education. Open Up Resources partners with the country's foremost experts to create superb instructional materials which earn top ratings in third-party reviews, and then equips districts with the support they need to implement with success.