OUR's new interactive, community-driven, on-demand, professional learning courses support educators just in time as they navigate new curricula.

At the heart of the Open Up Resources mission is a commitment to increase equity and access in K–12 education. One of the ways we do this is through providing openly accessible curricula to educators. Yet, we know that the materials themselves are just a part of the solution. To truly transform the learning experiences of children, we need to pair strong curricula with strong professional learning.

Recognizing this need, we added our first ever asynchronous Open Up Resources K–8 Math launch to our robust professional learning options. With this option, educators can take a self-paced course to get familiar with the math curriculum on a schedule that works for them. This option not only aligns with our deep belief in professional learning as a critical element for student achievement, but it makes high-quality professional learning more accessible to educators across the world. Trying to onboard teachers across schools in a large district with a complicated schedule? On a small team with a tight budget for professional learning? This asynchronous course makes high-quality professional learning accessible to districts and educators no matter their context.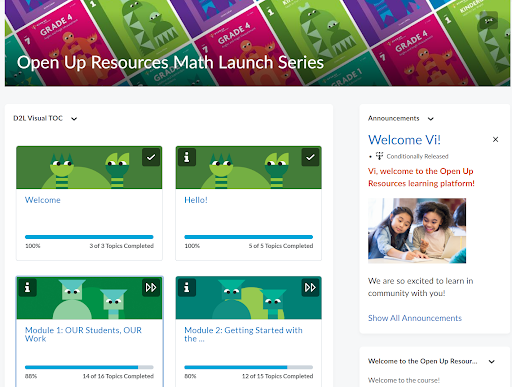 Wondering about the effectiveness of an online professional learning course?? We get you.
While an online course might conjure up images of passive sitting, hours-long videos, and lengthy readings, this is far from what we've designed this course to be. Here are a few elements that set our asynchronous offering apart from others:
Interactive, varied learning: When designing this course, we thought about what learning experiences were most important as one learns a new curriculum. You'll find a balance of learning formats and mixing independent reflection and collaborative, discussion-based work combined with videos and screencasts, audio, learner-driven activities, and instructional demonstrations and modeling. Even more, our course recognizes that learning is not one-size-fits-all, and aims to meet the needs of a variety of adult learners.
To get a feel for the Number Talk routine, for example, educators watch bite-sized demonstrations paired with intentional pause points for reflection. The advantage of learning in an asynchronous space is the ability to pause – a critical component to go from learning new content to being able to apply it. As Dewey captures it, "We don't learn from experience itself, but rather, from reflecting on experience" (Dewey in Simeral, Pursuing Greatness, p. 2).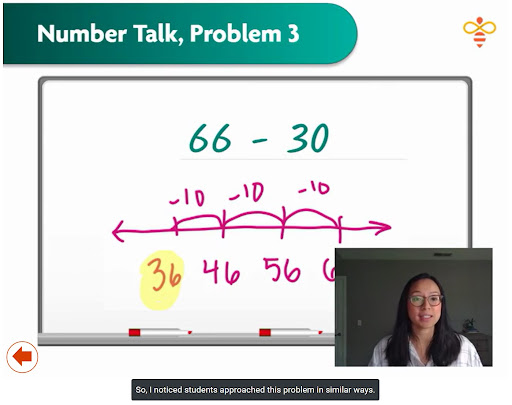 Student work paired with teacher reflection makes learning about instructional routines in action more concrete.
Prioritized, just-in-time learning: Onboarding and learning about a new curriculum can sometimes feel like drinking from a firehose. Research shows that it is impossible for our brains to take on that much new information at a time. In designing this course, we pared down content to what is most critical in those early moments of learning. As the learner, educators get to drive what content they zoom in and focus on, and what content they will return to later. The course also includes shared resources for review or extended learning that can be bookmarked or saved, so that the learning can continue even after the course is completed.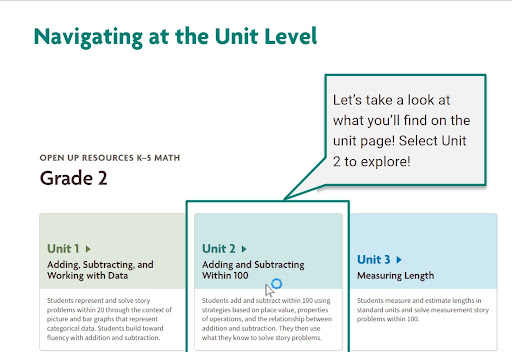 Our course allows educators to get acclimated with the curriculum resources at their own pace and to review it as needed.
Learning in community: If you're familiar with Open Up Resources, you know how important our educator communities are. Community building is easier done in person but we have incorporated ways to foster community even in a virtual space. You'll find opportunities for connecting and engaging in discussion with educators across districts all over the country. And keep your eyes on us – we are continuously striving for more ways to develop a sense of community in this asynchronous space.
On-demand and accessible learning: As former classroom educators ourselves, we get how busy you are! There is a real need – especially in today's world – for learning that is readily accessible. Our asynchronous course makes it possible for you to start your learning stat. Out and about? Access the course on your laptop or on mobile devices to continue your learning.
Are you as excited as we are?!
We know that we have a lot to learn as we venture into the asynchronous professional learning world but we're inspired by what we are creating – and we are just getting started! Want to learn more about our asynchronous offering? Email us at professional.learning@openup.org.
---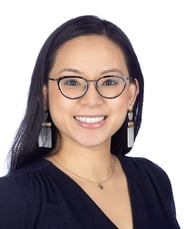 Vi Tamargo (@vi_tamargo)
Professional Learning Math Specialist Academics, Equity & Social Justice Team
During her years in the classroom, Vi served Kindergarten through eighth grade students from Oregon to New York, with a specific focus on mathematics education. She also served as an instructional coach and math interventionist. Helping each child and educator find a love for mathematics was what inspired her daily. She now brings that commitment into her work at Open Up Resources, thinking innovatively about how professional learning can be a catalyst for equity, access and mathematical joy. An Oregon native, she now resides in California with her two young children and her husband. Vi enjoys Barre3, running, writing, crocheting, and discovering new coffee shops and food spots.