It's planning season, and we're awash in questions from educators working on next year's plans. Our recent blog post, How Much Should You Pay For a Free Curriculum, outlined the options for districts, from the free ways to access the materials to the areas where districts invest in their teachers' success.
Here's a quick snapshot of the options for bringing the materials into classrooms: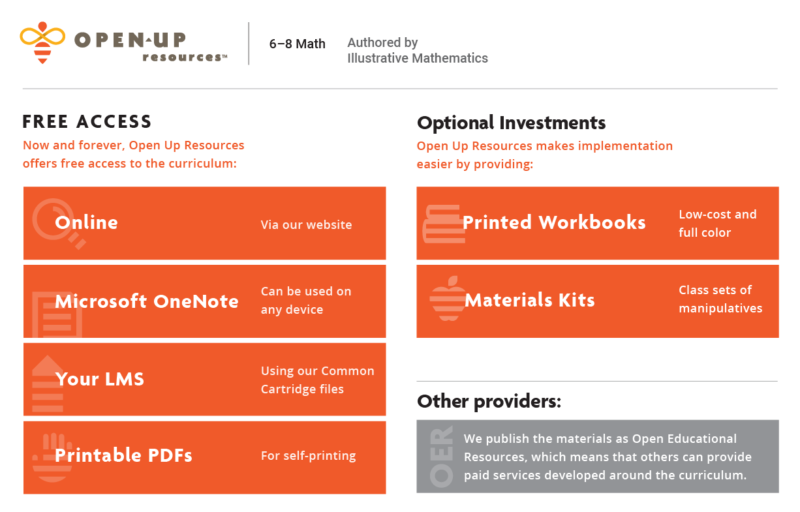 Many schools prefer to order printed workbooks—and we explain why in our blog—yet a growing number of districts are thinking of going digital, especially as they enter years 2 and 3 with the curriculum.
So, let's unpack the free digital options.
Option A: Microsoft OneNote, Free and Awesome
We've partnered with Microsoft to integrate all of our curricula with the OneNote and Forms apps for a few key reasons:
It's a free option that can be used with any device or via the web.
It offers an elegant, teacher- and student-friendly digital notebook for the curriculum, plus features for assigning and grading assessments.
In fact, we think it's the best digital option for using our curricula, and here's why:
1. OneNote Features Wow Teachers
The OneNote Class Notebook is exceptionally classroom-friendly:
Teachers can distribute Open Up Resources course materials on any device via an elegant digital interface which supports notetaking as well as customization of the materials.
Students can write, draw, collaborate, and save their work automatically in a personal digital notebook.
Real-time collaboration can occur around the materials: teacher-to-class, teacher-to-student, and student-to-student. Seeing each others' thinking promotes real mathematical discourse by students and progress monitoring by teachers.
It integrates seamlessly with common LMS and SIS platforms—check out the options here.
2. It Makes Assessment and Insight Easy
In addition to the real-time glimpse that teachers gain into student classroom work, our assessments are integrated with Microsoft Forms, which offers:
One-click assignment and efficient scoring.
Free analytics dashboards for assessment data, with well-designed and easy-to-read data displays.
Support for differentiation through rapid formative assessment insight.
3. It Has Pioneering Accessibility Features
OneNote's assistive learning features are in a league of their own, from the Learning Tools for reading to the tools for the visually impaired to the read-aloud and on-demand translation supports. Learn more about Microsoft's latest accessibility enhancements.
4. 'Cause Educators Sing Its Praises
The cheers from districts using OneNote clinched it for us.
For example, Stefanie Bruckner, mathematics specialist in Buncombe County PS, said:
"The integration of the Open Up Resources curriculum into OneNote has allowed teachers in our district to truly integrate our 1:1 devices and mathematics in a powerful way to advance student learning. Utilizing OneNote and Open Up Math together in the classroom has opened up a gateway to each student's thoughts and ideas throughout the units. The collaboration of materials has actually increased the practice of mathematical discourse simultaneously with our digital initiative."
Learn More
This overview video can give you a better sense of the OneNote and Forms integration:
https://www.youtube.com/watch?v=5VV3txIM9ww
To check out the LMS integration of our math curriculum, log into our website and click the LMS tab, then select 'Request Information.'
Option B: Import Into Your LMS
Prefer to use your LMS to access the materials? We offer free Common Cartridge files that are designed to be imported into your LMS by your LMS specialist.
Our Pro Tip: importing content into an LMS is not always an intuitive process, and we find that it's best done by a specialist in that LMS. If your school or district doesn't have an in-house guru, we recommend getting the support of a consultant, to make sure that things go smoothly.
To check out the LMS integration of our math curriculum, log into our website, click the LMS tab, then select 'Request Information.'
Option C: Our Website, A Great Place to Start
Our website is a fine place to explore the curriculum, especially for districts piloting the materials. We haven't incorporated many bells and whistles like notetaking, etc…but not everyone is looking for those features.
We'll always offer a website where you can access the materials for free, now and forever.
Need a Lifeline?
It's a lot of options, and if you want to talk through them, drop us a line—we're here to help.