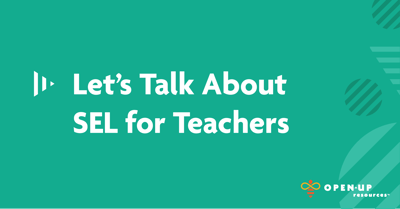 Everyone is talking about social emotional learning right now and rightfully so. Our CEO, Jessica Sliwerski recently shared about her experiences on a panel at SXSW EDU about the SEL revolution and our Academics Team has been focused on explicitly calling out all of the ways our Open Up Resources 6–8 Math curriculum embeds SEL supports.
The evidence is clear: well-designed SEL supports, embedded within student learning, lead to students engaging in content on a deeper level that results in more impactful and longer-lasting learning. This begged us to ask the question, "Are we providing professional learning for teachers with high-quality SEL supports included as well?".
Just like SEL with students, we aren't just talking about teachers sitting in groups and occasionally discussing a prompt or briefly working together to keep them engaged during a long day of learning. We are talking about the real work of SEL. Teachers building positive relationships, understanding others' situations, and working together to institute real change is what needs to be the focus of truly embedding SEL into professional learning opportunities.
That's one of the reasons we began investing heavily into growing Professional Learning Communities around each of our curricula. We wanted to give teachers a place where they could openly share, build trust, and support each other regardless of location, background, or situation. The feedback from teachers has been amazing.
"I am so thankful for this community of learners. I continue to learn how to better serve my students by listening and interacting with you," shared Kristi Gast, a teacher at West Hancock Middle School, Kanawha, IA.
We hoped to spark teacher learning by listening and interacting with others when we decided to focus on building more SEL opportunities for teachers.
We're also invested in making our first ever HIVE conference dedicated to embedding SEL supports within our high-quality professional learning sessions. Take our Community Pathway for example; teachers will experience sessions led by practicing teachers who also serve as our Open Up Resources 6–8 Math Gurus. They've taken some of their favorite SEL instructional routines from the curriculum like Take Turns, Group Presentations, and Notice & Wonder, and designed the entire 2-day Professional Learning experience around them.
Lots of people have asked us why we are so invested in hosting the HIVE conference this year when we already offer so many other Professional Learning opportunities through our partners at academies, on-site and virtually. To us, the answer really comes down to our belief that social emotional learning can be the difference maker for both children and adults.
Yes, we want teachers to benefit from our professional learning and be motivated and inspired by our day of keynote speakers and panel discussions, but more than that we want to give all teachers using our curricula a sense of belonging. We want to help the teachers at HIVE make connections and contacts with other teachers to help launch and solidify their professional learning network, to make sure they not only start strong, but have the support system they need to keep their momentum going all year long.
HIVE is just one of the steps we are taking to show our dedication to social emotional learning for teachers. We'd love for you to check out our online virtual Professional Learning Communities or other community resources and let us know what you think. We welcome you to also submit your own ideas for how we can better provide these experiences for teachers by reaching out to our Community Manager, Brooke Powers.