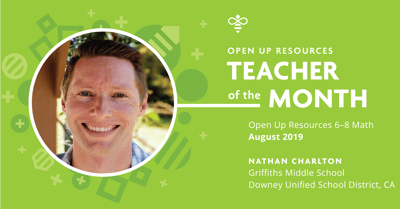 Downey, CA: Nathan Charlton, a 7th-grade teacher at Griffiths Middle School in Downey Unified School District, has been named the Open Up Resources 6–8 Math Teacher of the Month for August 2019. Nathan is recognized for outstanding work in his classroom and for his support of teachers across the country, as a member of the Open Up Resources National Professional Learning Community.
Nathan's work with Open Up Resources 6–8 Math makes him one of the most innovative teachers in the country. The curriculum inspires a new way of teaching math by transforming classrooms into hives of activity focusing on discussion, questioning, debate, and the deeper conceptual learning of mathematics that follows.
Nathan was nominated by colleague Miguel Moreno: "Nathan knew the curriculum he and his PLC were using was a disservice to his students so he found the Open Up Resources 6–8 Math curriculum, took a leap of faith and implemented it mid-year."
"Every time I would ask him about the new curriculum he would say great things but what he valued most was that his students were actually making sense of math. He brought his whole PLC on board and due to his enthusiasm, three more PLCs in our district are now implementing the curriculum. Because of his love of students he has changed the quality of instruction not only for his students but for hundreds of others across our district," Moreno is happy to share.
Nathan is excited to use the curriculum: "Gone are the days of students quietly watching me teach and then copying what I do like a robot. They're talking about the math, making sense of the math, and developing a truly deep understanding that will stay with them for years to come."
"Open Up Resources 6–8 Math has given me a completely new love of teaching. I've always liked the students but I am so glad to be free of boring math lessons. Teaching that same example five times to a bunch of blank looks is gone. Now, we have deep mathematical discussions, and every day is exciting.
Open Up Resources is a non-profit on a mission to increase equity in education by making excellent, top-rated curricula freely available to districts. You can learn more at www.openupresources.org.