If you are still contemplating attending Open Up Resources HIVE 2022 Conference, let me be the one to convince you that this is the ONE you don't want to miss! When I am considering a conference, I want to know "What will this conference do for me, my students, and my teaching?" If you only remember three things from this post, let them be Cultivate, Connect, and Collaborate.

CULTIVATE: Attending the HIVE Conference will give you the opportunity to cultivate and strengthen your expertise in instructional routines, math language routines (MLRs), differentiation, the progression of concepts, starting the year off strong, and more. Through workshops, keynotes, and affinity groups, you will be energized with interesting ideas, terrific takeaways, and supplemental strategies to improve and develop professionally.

CONNECT: When you first think of the word "connect" in regards to a conference, you might think of meeting other educators, administrators, and learning coaches in addition to enlarging your network. Yes. This absolutely happens at HIVE. An additional meaning comes to mind for me, and that is the deeper understanding of the connection across grade levels (vertical articulation), amongst grade-level standards, between multiple methods and models, and especially within lessons and units. So. Many. Connections. My mind is dizzied and energized by the revelations, resources, and reflections each day!

COLLABORATE: If you study the inner workings of an actual hive, you know that the best growth happens when a community works together. Everyone has a role to play and members of the colony operate in unison to keep the temperature of the hive stable at 95 degrees (reviveabee Nov 2021). Just as bees work together in this way, both the people and the routines/structures of Open Up Resources 6–8 Math work in unison to provide access to math for all students and a safe place for students to thrive and grow. At HIVE, you will collaborate and enlarge your professional learning network (PLN), make lifelong connections, and leverage the power of collective efficacy.

We truly are #bettertogether at #OURHIVE.

Let me give some context to what transpired for me personally, before this moment – My "Open Up" story, so to speak.

My Journey to HIVE: from Consumer to Curator to Coach

I am a 6th grade math teacher in Lake Zurich, Illinois. My PLC in 2018 consisted of 4 people: two 6th grade general education teachers, a math interventionist, and a special education teacher. We were already on a journey of changing the way we delivered instruction from a traditional "I do. We do. You do" classroom. We came across Open Up Resources in conjunction with our math committee's search for a viable curricular resource that was aligned to the Standards. As consumers, we "played in the sandbox" with Grade 6, Unit 6: Expressions and Equations. This was what we were looking for.

By January, 2019, I was completely hooked and blown away by what was happening in my class: meaningful discourse, discovery, and students using multiple strategies to solve problems. Desiring a way to reflect and share my passion for the program and the impact both on the growth of my students and my own professional learning, I formed an idea to launch a YouTube channel called the math reflective. My mission was simple: teach, reflect and share the impact.

Moving from consumer to curator, I reached out to Brooke Powers, Open Up Resources' Managing Director of Academics, and asked permission to vlog about the program and my experiences. I began sharing videos that demonstrated instructional routines, math language routines, and ah-ha moments in action. The Open Up Facebook communities and Twitter are the platforms in which I give back as they are the communities that formed my PLN and continue to offer me so many valuable resources.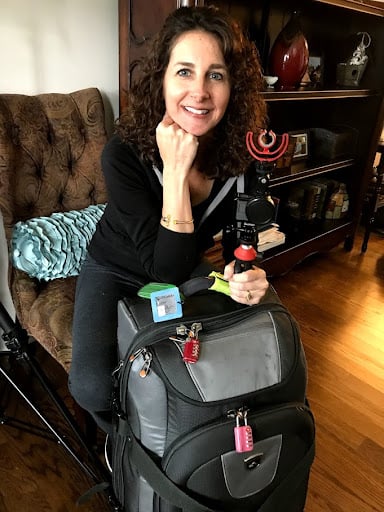 New vlogger ready to go!
Fast forward to June 17, 2019. I was in Atlanta for the first annual HIVE Conference. It was like nothing I ever attended before. Being at a professional learning event where every participant is implementing the same math resource is nothing short of powerful and life-changing. I left inspired, encouraged, and even more passionate about Open Up Resources 6–8 Math and the transformation that was happening in my classroom.
At the conclusion of my second year teaching with Open Up Resources 6–8 Math, my understanding of the math and the lessons had deepened, though there was so much work still to be done in my professional growth. I also recognized that in spite of my trials and errors, there was much to share. Thus, the next step of my professional journey: Community Coach. After applying, I was accepted as an Open Up Resources 6–8 Math Community Coach. In this role, I engage in the Facebook and Twitter communities as well as create and collaborate in monthly professional learning with educators across the country. Planning and presenting at HIVE is another privilege of the role. I bring to the table a passion and enthusiasm, not a teacher who is perfect and polished, but one who yearns to learn alongside others.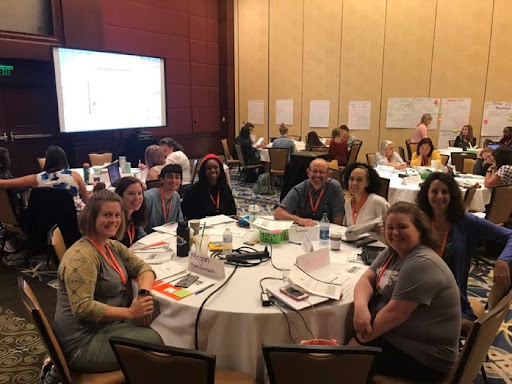 Community Pathway Learning
HIVE 2021 was virtual due to the pandemic, and that was such a unique experience! For months, all those involved in education had to pivot and radically change the way we deliver instruction. Zoom and Google Meet were the norm in classrooms and digital platforms were life rafts for students, keeping them "above water" and engaged in learning. HIVE was no exception. We created sessions that would elevate instruction in any learning model. Though not in person, there was indeed a buzz of energy in the sharing and collaboration of participants. We left changed and inspired to continue the important work of providing a viable, rigorous curriculum that ALL students can access.
This brings us to today; I am in my second year as a Community Coach and we are already planning amazing workshops for you at HIVE 2022! What am I looking forward to for HIVE 2022? I can sum it up with an acrostic poem:
H-Helpful hints, high quality key-note speakers, hope for all students, healing together, humorous moments that lighten our souls after another challenging year
I-improvement, instructional routines, IN PERSON, ideals to strive towards, inclusionary practices, insight, incredible everyday heroes who inspire us
V-valid perspectives, models, and methods, valued colleagues, versatility in how we learn, vision casting, vibrant conversations, vital tenants of Open Up Math
E-energizing sessions, eagerness to learn and improve, empowerment for both educators and students, encouragement from each other, enhanced practices, equity-focused learning, easy to implement tips
This is just a sampling.
Would you consider joining me on this journey? You have so much to offer; please share it with OUR community at HIVE 2022.
If you would like to attend our monthly grade-level PLC sessions but evenings are difficult for you, you can request access to recordings.If you haven't joined our community groups on Facebook, please do! If you are new to Twitter and reluctant to put your toe in the water, dive in at #OpenUpMath and #OpenUpELA! This will get you started.
Finally, I encourage you to consider attending HIVE 2022. You have three locations/dates to choose from: Asheville, Kansas City, and San Francisco. The in-person HIVE Conference brings back our Community Pathway and will be led by Open Up Math and ELA Community Coaches. Take a "Deeper Dive" with us; let's keep our momentum going over summer and into the next school year.
Cathy Dickson, Open Up Community Coach, Teacher Leader in Residence, @mathreflective
6th Grade Teacher
Lake Zurich, Illinois
Cathy was so inspired by how much Open Up Resources 6-8 Math transformed her classroom that she started a YouTube channel to reflect and share her experiences. She teaches both the 6th grade and 7th grade levels of this resource, is certified in Coaching High Impact Teacher Teams and serves as a 6th Grade Team Leader and Title I Math Tutor at her school. When not teaching, she enjoys playing doubles tennis, walking, traveling, as well as enjoying time with family and friends.
Listen to this podcast where she discuses professional Learning Networks and how we can transition from consumer to creator.
.