A dive into the annual HIVE Conference – Then and Now
It's officially time to start the countdown to the HIVE 2021 Conference, which is already less than 100 days away! And this time of year, along with inspiration from an unlikely source – poetry – has me reflecting on this one-of-a-kind conference and its community throughout the years.
The first-ever HIVE Conference kicked off in the summer of 2019. After months of planning, this conference came to life right before our eyes. And it was different from any conference I had ever been to—it was centered around expert-authored curricula, best teaching practices, and teachers were at the heart. In fact, the Open Up Resources 6–8 Math Community Pathway, a pathway I was a part of leading, was planned for educators and facilitated by teachers of the curriculum. I was able to meet all of my PLN friends from our communities in 3D and taking all of the selfies we could manage.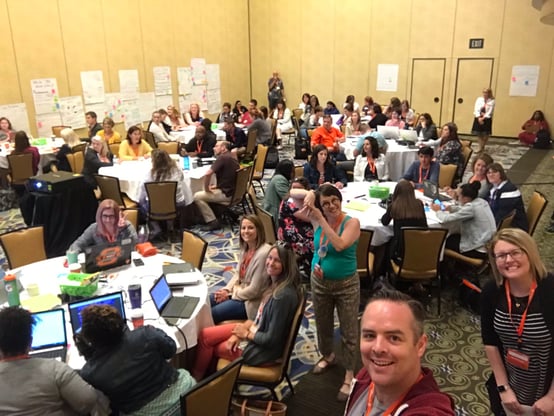 In 2020, HIVE was flipped on its head. With a pandemic came a virtual setting for the conference, and, instead of selfies, we took screenshots of our Zoom meetings. And I wouldn't trade a single minute of reimagining that conference. We took instructional routines and protocols originally intended for in-person learning and made them accessible to online learners. We dove into technologies and learned a lot about virtual facilitations of collaboration, group work, and team-building. I learned that, as long as we keep what's best for kids at the center, we can do anything. We are better together.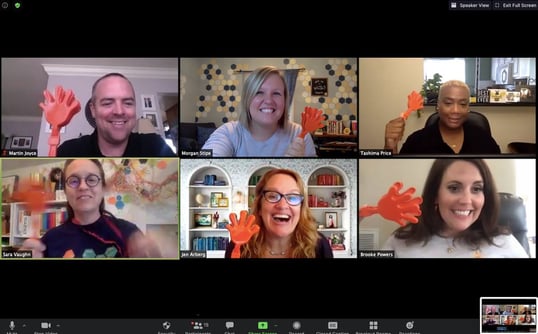 This year's HIVE Conference is going to be just as amazing. There are so many new learning pathways, including EL K–8 Community planned and led by our fabulous Community Coaches, EL Administration and Leadership, 6–12 Math Leadership for Administrators and Coaches, and Bookworms K–5 Reading & Writing DI Block for new and experienced users. There are a number of one-hour flex sessions each day to allow participants to customize their learning and experience. We have affinity groups in the works, along with some amazing keynote speakers that I cannot wait to add to my sketchnotes collection. Among the all-star lineup of speakers, HIVE 2021 will feature teacher speakers Nicola Scheib and Dr. Amy Whitener!
One of my favorite ways to learn more about HIVE then and now is to follow along with Community Coach and educator Cathy Dickson and her HIVE 2021 Conference vlog series. Be sure to check it out to learn more about what's coming and what educators are excited about at this summer's conference!
This school year has been trying. And exhausting. And it's gone by so slowly, but I feel I am out of time always. To help myself with my own wellness, I have picked up reading (for fun) again. I hadn't sought out a poem to read probably since middle school. And until recently, poetry had faded into the background just as quickly as I would consume and write it in my preteen years.
I read the words of Rupi Kaur from The Sun and Her Flowers:
when the world comes crashing at your feet
it's okay to let others
help pick up the pieces
if we're present to take part in your happiness
when your circumstances are great
we are more than capable
of sharing your pain
–community
I don't know what next school year will look like for schools across the country and world, let alone my own children. But I do know that, on my highest and lowest days, the sense of community and support I come away with in the Open Up Resources Twittersphere and Facebook groups is unlike other curricula. I know that the HIVE Conferences of the past have made me a better educator and I cannot wait to see the community grow better together this summer! Grab your virtual seat to HIVE 2021 today to learn within our community of educators!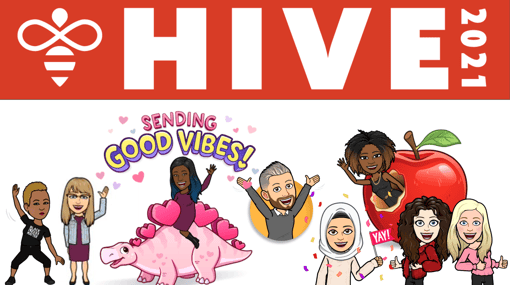 ---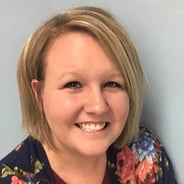 Morgan Stipe, Open Up Resources first Teacher Leader in Residence, combines her experience in teaching and school leadership and brings it to the OUR team. The team at OUR refers to her as our "Resources Whiz" as she is always creating and developing resources to support students that use Open Up Resources 6–8 Math and EL Education, and shares them with teachers across the country. Morgan also documents her classroom experiences on many social media platforms including #OpenUpMath and the Open Up Math Facebook Group.
Check out upcoming Open Up Resources 6–8 Math Professional Learning events from our Teacher Leader in Residence, Morgan Stipe, here!