How do you grow as a teacher? How do you learn new ideas and best teaching practices? I did all that and more at the annual HIVE Conference in the summer of 2020!
Last year, I attended the Open Up Resources HIVE Virtual Conference. If you're thinking about going to HIVE 2021 (tickets now on sale) and want to know what to expect, I'll tell you about my experience.

What To Expect at HIVE 2021
The conference was broken up into 1-hour keynotes, 3-hour hands-on workshops, and optional 1-hour flex sessions. Like 2021, it offered a variety of pathways for teachers and leaders of every Open Up Resources curriculum. I attended an Open Up 6-8 Math Community pathway.
The 1-hour keynotes featured speakers like Amanda Jansen, the author of Rough Draft Math, who shared the importance of communication to learn and the power of revising ideas. Sara Van Der Werf, an amazing and creative math teacher, and the always inspirational Dr. Kristopher J. Childs were among the keynote speaker lineup. Principal Baruti Kafele closed the HIVE 2020 Conference by encouraging us to celebrate the kids and small victories and to be intentional along the way. He shared in his talk, "Create an environment that is so stimulating, engaging, and positive that kids have to embrace it!" The talks were all so motivating and really challenged my thinking.
The flex sessions had a variety of topics. There were, of course, math topics centered around the Open Up 6-8 Math curriculum, like a deep-dive into the lesson synthesis and cool-downs. There were also sessions on culturally responsive teaching and building community. I had the opportunity to interact with different groups of teachers outside of my cohort and in different pathways.
Where the conference really shined, in my opinion, was the 3-hour sessions! This was the information I needed to improve my teaching and deepen my knowledge of the curriculum and best teaching practices. The collaboration was incredible in our sessions about instructional routines and math language routines, as we created anchor charts and community-building activities to use right away in the Fall.

Community Coach Sessions
Another highlight was the just-in-time support with technology. The Community Coaches demonstrated great teacher moves in their facilitation, and they even set aside a whole 3-hour workshop to explore effective technology and build resources with our cohorts! I didn't expect that going into HIVE. I consider myself pretty knowledgeable with tech, but I walked away feeling so much more prepared for the new Zoom school year and eventually being back in-person with my students.
In the community pathway, sessions took a deep-dive into topics one might not always have time to delve into during the school year. I knew so many teachers who I interacted with on Twitter, Facebook, and the PLCs would be in this group. I was looking forward to sharing ideas and learning from them. I was not disappointed! There is honestly nothing like quality professional learning created and facilitated by teachers, for teachers.
You might think that a 3-hour workshop sounds like a long time, especially on Zoom. I was surprised at how fast the time went and how much fun I had. The coaches always had a fun intro to get us going, and the activities were so engaging.
Every participant at the sessions wanted to be there and brought something new to the table. The Community Coaches introduced a topic and then we had hands-on work with a small group (some grade-level, others mixed grade levels). I learn by doing, just like many of my students, and this was a great time to experience lessons, routines, and tasks from a student's point of view or grow deeper in my teaching knowledge. But what I enjoyed most was spending time with other teachers using the curriculum. I learned so much in hearing their experiences, innovative ideas, and problem-solving in implementing the curriculum.
This year, my HIVE experience will be very different. As a Community Coach, I will be planning, creating, and leading sessions for my peers from all over the country and world. I have A LOT to live up to after last year! I am so grateful I had the experience of an attendee, so I know first-hand what makes the sessions so great. I can't wait to see you there!
---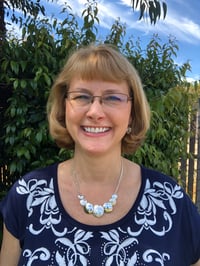 Christy Hansen
7th & 8th grade math teacher
OUR Community Coach
San Diego County
Christy is in her 15th year of teaching middle school math and is currently teaching 7th and 8th grade students. She is an enthusiastic user of the Open Up Resources 6–8 Math curriculum due to the growth she's seen in her students. Christy loves to connect and support other teachers through Twitter. She is Nationally Board Certified in math and is a San Diego County Teacher of the Year (2019-2020).