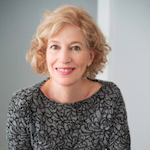 Natalie Wexler, one of the most prominent education journalists and authors of the day, has been confirmed as a speaker for HIVE 2020. Her talk will focus on The Knowledge Gap: What It Is and How to Narrow It based on her renowned book: The Knowledge Gap: The Hidden Cause of America's Broken Education System—and How to Fix It (Avery 2019). In The Knowledge Gap, Wexler explores the untold story of the root cause of America's education crisis–and the seemingly endless cycle of multi-generational poverty.


She is also the co-author, with Judith C. Hochman, of The Writing Revolution: A Guide to Advancing Thinking Through Writing in All Subjects and Grades (Jossey-Bass, 2017), and a senior contributor to the education channel on Forbes.com.


Her articles and essays on education inequality and other topics have appeared in The New York Times, The Washington Post, The Atlantic, and other publications. She has spoken on education before a wide variety of groups and appeared on a number of TV and radio shows, including Morning Joe and NPR's On Point and 1A.


Natalie holds a BA from Harvard University, an MA in history from the University of Sussex (UK), and a JD from the University of Pennsylvania, and she has worked as a reporter, a Supreme Court law clerk, a lawyer, and a legal historian. The author of three novels, she lives in Washington, D.C., with her husband and has two adult children.


Natalie is scheduled to speak at HIVE 2020, Open Up Resources' virtual professional learning event, on Tuesday, July 14.* ELA educators in attendance will receive a mailed copy of The Knowledge Gap and can hear from Natalie and other speakers over the course of the 5-day virtual conference along with engaging in unique, interactive curriculum pathways, coffee chats, flex sessions and special events. More information about what to expect can be found here.


The event's keynote speaker, Dr. Kristopher J. Childs, will lead the conversation on HIVE 2020's theme: Reimagining Education. Dr. Childs has created a movement to inspire all who are involved in academic endeavors globally to pursue excellence and academic success. Additional speakers include: Principal Baruti Kafele, Dr. Amanda Jansen, Sara Van Der Werf, and D. Lacy Asbill. More speakers and schedules to be announced.


HIVE 2020, originally planned to take place in New Orleans, went virtual March 31 in response to school closures and community stay-in-place orders. The Open Up Resources team is now finalizing details in this new normal. The professional learning conference will now take place over five days starting June 23. Programming will be synchronous and interactive with recordings of all sessions provided to participants after the conference for future viewing. Additional information on pricing and registration deadlines can be found here.

*Full schedule to be announced and subject to change.
---
About Open Up Resources:
Open Up Resources is a 501c3 that exists to increase equity in education by making the highest quality curriculum freely accessible to educators and providing implementation supports to the broadest number of teachers, empowering them to effectively and sustainably improve student outcomes in pre-K-12 English Language Arts and Mathematics. To learn more about Open Up Resources' mission and work, click here.
Stay up to date on the latest from Open Up Resources by following us on twitter, Facebook, LinkedIn and joining our communities.