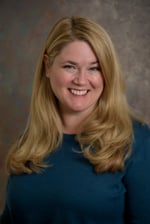 Dr. Amanda Jansen is a professor of mathematics education in the School of Education at the University of Delaware. Earlier in her career, she taught mathematics to middle grades students in Mesa, Arizona. She earned her PhD in educational psychology from Michigan State University.
Mandy conducts research in mathematics classrooms to understand how teachers create motivating and engaging learning experiences for students. She is the author of
Rough Draft Math
, published in 2020 by Stenhouse Publishers. Additionally, her co-authored book (with Jim Middleton),
Motivation Matters and Interest Counts
was published by the National Council of Teachers of Mathematics in 2011.

At HIVE 2020, Open Up Resources' virtual professional learning event, Amanda will be sharing her tips for students to revise their thinking during mathematics class. Students are familiar with the idea of rough drafts from language arts, so why not bring rough drafts into math class? When creating a draft, students are invited to share ideas that are unfinished or still in progress. Through the process of drafting and revising, students can experience mathematics learning as a process of ongoing evolution of thinking. Drafting and revising are best supported by teaching mathematics through opportunities to explain and justify and with goals for mathematics learning that emphasize concepts and ideas. When we create a math classroom where students learn through revising drafts, they experience a space where their ideas are welcome, their strengths are recognized, and students feel safer to share their thinking when they are unsure. In this presentation, Amanda will share a range of practices teachers use to incorporate revising into the math classroom.
When asked about her excitement to connect with educators at HIVE 2020, Jansen noted, "HIVE 2020 is going to be an exciting event! Together, we will explore how to develop powerful mathematics learning experiences for students as we encourage each other in our professional endeavors."
In addition to Jansen's thoughtful and informative talk, attendees will engage in unique, interactive curriculum pathways, coffee chats, flex sessions and special events. More information about what to expect can be found here.
The event's keynote speaker, Dr. Kristopher J. Childs, will lead the conversation on HIVE 2020's theme: Reimagining Education. Dr. Childs has created a movement to inspire all who are involved in academic endeavors globally to pursue excellence and academic success. Additional speakers include: Natalie Wexler, Dr. Amanda Jansen, Sara Van Der Werf, and D. Lacy Asbill. More speakers and schedules to be announced.
HIVE 2020, originally planned to take place in New Orleans, went virtual March 31 in response to school closures and community stay-in-place orders. The Open Up Resources team is now finalizing details in this new normal. The professional learning conference will now take place over five days starting June 23. Programming will be synchronous and interactive with recordings of all sessions provided to participants after the conference for future viewing. Additional information on pricing and registration deadlines can be found here.
*Full schedule to be announced and subject to change.
---
About Open Up Resources:
Open Up Resources is a 501c3 that exists to increase equity in education by making the highest quality curriculum freely accessible to educators and providing implementation supports to the broadest number of teachers, empowering them to effectively and sustainably improve student outcomes in pre-K-12 English Language Arts and Mathematics. To learn more about Open Up Resources' mission and work, click here.
Stay up to date on the latest from Open Up Resources by following us on twitter, Facebook, LinkedIn and joining our communities.