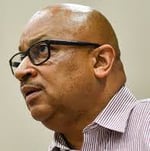 With nearly 30 years experience as an education leader, Principal Kafele is a highly-regarded and sought-after K-12 master teacher and school leader. His numerous awards and accolades include several Who's Who Among American Teachers, Teacher of the Year awards, Proclamations from local and state officials, and the New Jersey Education Association Award of Excellence.

Notably, Principal Kafele led improvements at four New Jersey urban schools from failing to high-performing. Newark Tech has since been recognized three times by U.S. News and World Report as one of America's best high schools.

In his 34 years of public speaking, Principal Kafele has delivered more than 2,000 conference and program keynotes, workshops, seminars and assemblies. An expert in the area of "attitude transformation," Principal Kafele is an authority for providing effective classroom and school leadership strategies toward closing what he coined, the "Attitude Gap." He is the author of 9 books.

At HIVE 2020, Open Up Resources' virtual professional learning event, Principal Kafele will engage attendees with an empowering address titled "Just One Educator Can Completely Alter the Trajectory of a Child." Principal Kafele will state emphatically to educators at all levels that each of them possess the power toward completely altering the trajectory of a child. He will encourage them to reflect upon their initial "why" for entering the world of education and remind them of the significance their "why" holds throughout the course of each and every day while ultimately taking children to heights previously unimagined.

When asked about his excitement to connect with educators at HIVE 2020, Principal Kafele noted, "I am excited about this opportunity to bring an uplifting yet empowering message to the educators at HIVE 2020. Educators are the most important people on the planet because people of all careers and professions have to go through a teacher. It is always a blessing to therefore bring a message to a teacher that may take that teacher to an even higher level of effectiveness."

In addition to Principal Kafele's motivating words, attendees will engage in unique, interactive curriculum pathways, coffee chats, flex sessions and special events. More information about what to expect can be found here.

The event's keynote speaker, Dr. Kristopher J. Childs, will lead the conversation on HIVE 2020's theme: Reimagining Education. Dr. Childs has created a movement to inspire all who are involved in academic endeavors globally to pursue excellence and academic success. Additional speakers include: Natalie Wexler, Dr. Amanda Jansen, Sara Van Der Werf, and D. Lacy Asbill. More speakers and schedules to be announced.

HIVE 2020, originally planned to take place in New Orleans, went virtual March 31 in response to school closures and community stay-in-place orders. The Open Up Resources team is now finalizing details in this new normal. The professional learning conference will now take place over five days starting June 23. Programming will be synchronous and interactive with recordings of all sessions provided to participants after the conference for future viewing. Additional information on pricing and registration deadlines can be found here.

*Full schedule to be announced and subject to change.


---
About Open Up Resources:
Open Up Resources is a 501c3 that exists to increase equity in education by making the highest quality curriculum freely accessible to educators and providing implementation supports to the broadest number of teachers, empowering them to effectively and sustainably improve student outcomes in pre-K-12 English Language Arts and Mathematics. To learn more about Open Up Resources' mission and work, click here.
Stay up to date on the latest from Open Up Resources by following us on twitter, Facebook, LinkedIn and joining our communities.