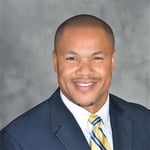 Rashad Slade is the Executive Director of Student Assignment for Guilford County Schools (GCS) in North Carolina. GCS is the third-largest district in North Carolina, serving nearly 72,000 students across 126 schools in urban, suburban and rural areas.
Rashad has over 15 years in education as a teacher, technology integration specialist, school-based administrator, and central office administrator. From 2013-2020, he served as Director of Blended Learning for GCS. In this role, he was responsible for the overall leadership and supervision of the instructional technology, blended learning, and virtual learning programs. Most recently, he was named Executive Director of Student Assignment for GCS.
Rashad holds a bachelor's degree in business administration in information systems from Appalachian State University, a master's degree in education from North Carolina State University, a specialist in education (Ed.S.) degree in educational leadership from the University of North Carolina at Greensboro, and is currently pursuing his doctorate (Ed.D.) in educational leadership from the University of North Carolina at Greensboro.
At HIVE 2020, Open Up Resources' virtual professional learning event, Rashad will be sharing the successes and challenges faced during our transition to remote learning. Attendees will share experiences of what went well, lessons learned, and re-entry strategies for the 2020-2021 school year. Specific topics of focus include equity of access, approaches to professional learning, exploring digital resources, and engagement strategies from principals and teachers.
When asked about his excitement to connect with educators at HIVE 2020, Slade noted, "In 2020, schools had to transform teaching and learning in a short period of time due to COVID-19. Educators have adapted to provide students a high-quality learning experience in this unprecedented time. I am looking forward to learning and sharing experiences with other districts at the HIVE 2020 conference!"
In addition to Slade's thoughtful and informative talk, attendees will engage in unique, interactive curriculum pathways, coffee chats, flex sessions and special events. More information about what to expect can be found here.
The event's keynote speaker, Dr. Kristopher J. Childs, will lead the conversation on HIVE 2020's theme: Reimagining Education. Dr. Childs has created a movement to inspire all who are involved in academic endeavors globally to pursue excellence and academic success. Additional speakers include: Natalie Wexler, Dr. Amanda Jansen, Sara Van Der Werf, and D. Lacy Asbill. More speakers and schedules to be announced.
HIVE 2020, originally planned to take place in New Orleans, went virtual March 31 in response to school closures and community stay-in-place orders. The Open Up Resources team is now finalizing details in this new normal. The professional learning conference will now take place over five days starting June 23. Programming will be synchronous and interactive with recordings of all sessions provided to participants after the conference for future viewing. Additional information on pricing and registration deadlines can be found here.
*Full schedule to be announced and subject to change.


---
About Open Up Resources:
Open Up Resources is a 501c3 that exists to increase equity in education by making the highest quality curriculum freely accessible to educators and providing implementation supports to the broadest number of teachers, empowering them to effectively and sustainably improve student outcomes in pre-K-12 English Language Arts and Mathematics. To learn more about Open Up Resources' mission and work, click here.
Stay up to date on the latest from Open Up Resources by following us on twitter, Facebook, LinkedIn and joining our communities.